In 2023, we will again open our field to people who want to grow their own vegetables and join us in researching which plant communities thrive best here in Rehfelde.
For this gardening season (as of November 2023), plots will be available (ca. 33 sqm of bed plus surrounding paths).
These are the plots: 11, 12, 13, 14, 15, 16, 32, 36 & H1.
The fee is 70 Euro per season & plot. If you want to cultivate one of the plots, you will become a member of our forest garden pilot for the season and you will be able to feed yourself and your loved ones with home-grown vegetables. Water is available in the tanks next to the field. We pump groundwater from a depth of 21m. Our lockable tool shed is at your disposal. There are common garden tools and watering cans.
We continue to work diligently on the infrastructure. Dip stations for watering cans directly on the field will be functional in the coming year. Our deer fence is securely in place. To protect our field, we regularly raise the 40m long Benjes hedgerow on the west side, and since the winter of 2022, we are planting windbreak hedges to the north.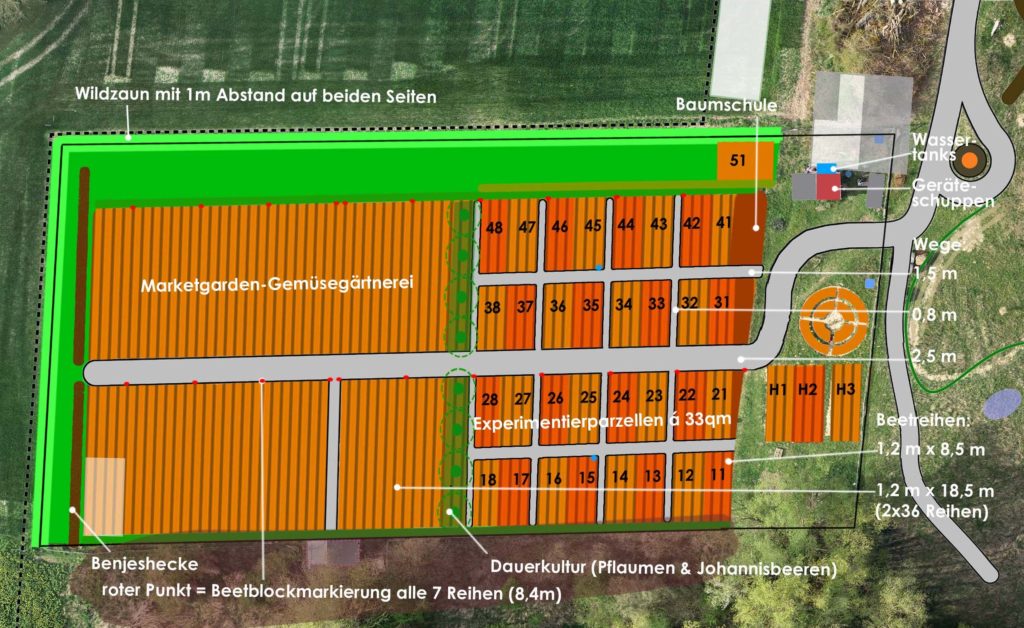 The experimental gardens were designed according to permacultural principles. As a sub-project, they support our large forest garden on several levels:
– social, because we get such an active community on the site
– knowledge building, because we grow with so many different people in very different ways and learn from each other in the process
– financially, because we can refinance expenses such as the access road and equipment costs through the annual cost contribution.
Our forest garden is quite well connected to public transport! ->info
If you are curious or would like to participate in the experimental gardens, simply enter your name and email address here:
Feel free to contact us at