After putting a lot of thought into the Permaculture Design of our areas in 2021, tree planting really took off in 2022:
We started with a New Year's planting on the first of January and transplanted some nurse trees with volunteers in August. Then, starting in October, we really started planting again. As a precaution, we also put a fence around the plantings in the south meadow to protect the many saplings from possible deer browsing.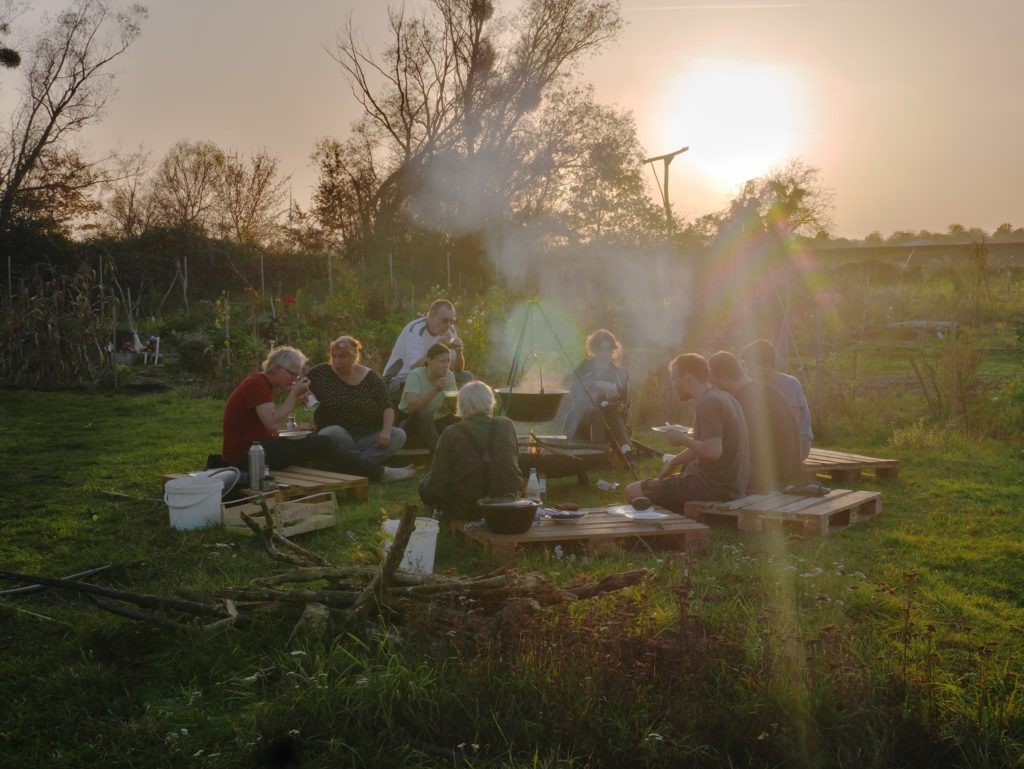 In the CSA market garden a new team has formed with our Janny as head gardener. She organized several work sessions with always delicious food around the campfire. Janny has also been involved in the core team since 2022, after Bettina and Silvana unfortunately stopped their volunteer work in the forest garden. At this point, many thanks again to both of them for all the time and work they put into our project!!!
Our relationship with the village intensified and we received invitations to participate in the 775th Anniversary Festival and the Harvest Festival in the fall with an information booth, where we presented beautifully arranged boxes of produce from the vegetable garden and the experimental gardens, in addition to tours of the grounds.
Shortly after, thanks to the tireless work of Ramos, we finally had unrestricted access to our new driveway and were thus able to finally hold the inauguration party, which attracted numerous visitors from the surrounding area and the city. The village association "Dorfangerverein" and the fire fighters supported us. Many thanks for that as well!
About the purchase of the access road, our border points were also precisely determined once again. Unfortunately, we had to cut down a lot of old poplars on the access road in spring to prevent them from falling on our heads. But in this case the safety of the people came first. We left the dead wood on the area so that a high biological diversity can continue to nourish and develop on it. In the meantime, lots of new branches are sprouting again from the heavily pruned poplars.
An irrigation group began working diligently on the planning and implementation of a very complex gravity-fed irrigation system. It is being created based on Jasper's master's thesis, which was developed specifically for this purpose. During the winter, Ramos began initial plantings on the windbreak around the field. He also organized 5 solid DDR containers that will become our economic center from 2023. And last but not least, in 2022 the first mushrooms were harvested in Matthias' mushroom garden and the reforestation of the North Forest was started. Hopefully, a climate-resistant oak forest will emerge there in the coming years.